Omar & Hana My Salah Mat - Interactive Kids Prayer Mat | Sejadah Interaktif Kanak-Kanak
Special Launch Price: RM60 off (20%)! - Official Omar & Hana Salah Mat
Regular price
RM

299.00
Sale price
RM

199.00
Unit price
per
Sale
Sold out
SPECIAL LAUNCH PRICE - LIMITED TIME ONLY!
Memperkenalkan My Salah Mat baharu versi Omar dan Hana! Ia telah di bangunkan selama 3 tahun, kerana pelbagai sebab, terutamanya di sebabkan oleh pandemik!

Kami sangat gembira untuk mengumumkan yang kami telah mencipta sejadah interaktif pertama di dunia dengan Suara Asal Omar dan Hana! Ia kini tersedia dengan Omar dan Hana menuturkan bahasa Inggeris dan Melayu. Edisi istimewa ini di datangkan dengan watak kegemaran anda, Omar dan Hana. Buku kecil istimewa dengan maklumat tentang solat dan teka-teki. Sertai Omar dan Hana dalam Perjalanan Solat mereka dan mulakan Perjalanan Solat istimewa anda hari ini!

Sejadah Interaktif Kanak-Kanak My Salah Mat. My Salah Mat adalah sejadah yang direka bagi mendidik kanak-kanak mengenai cara menunaikan solat Muslim dengan cara yang seronok dan menggembirakan. Sejadah interaktif ini sensitif sentuhan dan mempunyai kekunci pra-rakaman yang boleh disentuh untuk mengeluarkan bunyi, seperti waktu solat, cara berwuduk, membaca surah, membaca doa dan banyak lagi. Ia turut mengajar tentang waktu solat yang berbeza, dan pelbagai pergerakan dan kedudukan badan, di samping apa yang perlu diucapkan semasa solat. Bagi memudahkan proses pembelajaran, My Salah Mat akan membimbing pengguna menunaikan dua rakaat solat menggunakan format yang mudah untuk difahami. 
Ciri-ciri:
20 Bahasa Berbeza 

(

Bahasa

Inggeris, Perancis, Arab,

Urdu

, Malaysia, Turki, Indonesia, Rusia,

Bangla

, Sepanyol, Jerman,

Sweden

,

Norway

, Belanda, Bosnia, Itali, Portugis,

Albania

,

Somalia

,

Denmark

)

36 Sentuh Kekunci Sensitif
BARU* Kerjakan semua 5 Solat Harian ( Subuh, Zuhur, Asar, Maghrib, Isyak)
Bahan Kalis Air
Bahan Tahan Api
PERCUMA Buku kecil mesra kanak-kanak 12 Halaman mengenai Solat (24m/s)
Percuma Buku Kecil untuk Ibu Bapa mengenai cara memulakan proses pengajaran
Manual Bergambar – Amat terperinci
Bunyi Boleh Laras – 3 Tetapan
Boleh dilipat
Cap Dagangan Berdaftar
Bacaan Al-Quran daripada Mereka yang Berkelayakan (Qari) dengan Ijazah.
PELEKAT HOLOGRAM – Ini memperakukan yang ia merupakan produk yang asal dan kod pada pelekat boleh digunakan bagi mengesahkannya di pangkalan data dengan My Salah Mat.
My Salah Mat adalah sejadah yang direka untuk mendidik kanak-kanak tentang cara menunaikan solat Muslim dengan cara yang gembira dan menyeronokkan. Sejadah interaktif adalah sensitif sentuhan dan mempunyai kekunci pra-rakaman yang boleh disentuh untuk mengeluarkan bunyi, seperti waktu solat, cara berwuduk, membaca surah, membaca doa dan banyak lagi. Ia turut mengajarkan tentang waktu solat yang berbeza, dan pelbagai pergerakan dan kedudukan badan, serta perkara yang perlu di ucapkan semasa solat. Bagi memudahkan proses pembelajaran, My Salah Mat akan membimbing pengguna mengerjakan dua rakaat solat menggunakan format yang mudah difahami.


Pad sensitif sentuhan membolehkan sejadah mengenali dan bertindak balas terhadap kedudukan tertentu solat. Sebagai contoh, apabila seseorang meletakkan kedua-dua kaki pada lokasi tapak kaki di atas sejadah, sensor di dalam My Salah Mat mengenal pasti tekanan, dan tindakan pertama doa Muslim akan kedengaran (Allahu Akbar), diikuti dengan bacaan Surah Al-Fatihah. Kemudian apabila lutut, tangan, dan kepala menyentuh lokasi yang berkaitan di atas sejadah, bunyi yang berkenaan dengan bahagian solat tersebut akan kedengaran. Ianya berterusan melalui semua tindakan solat Muslim (sila rujuk kepada rajah untuk maklumat lanjut).

Mengajar kanak-kanak cara mengerjakan solat (solat Muslim) mungkin agak mencabar, kerana terdapat pelbagai pergerakan dan kedudukan untuk dipelajari, berserta dengan perkataan dan bacaan yang perlu diucapkan dengan tepat, dan ini mungkin agak sukar untuk kanak-kanak kecil. Oleh yang demikian, My Salah Mat menjadikannya menyeronokkan, mudah dan interaktif, serta menggalakkan kanak-kanak menunaikan solat.


Antara masalah yang diselesaikan oleh solat adalah mengemas kini kaedah yang digunakan untuk mengajar solat kepada kanak-kanak. Ia lebih terkini dan menepati gaya pembelajaran generasi telefon pintar dan tablet masa kini. Dengan kata lain ia perlu menggalakkan kanak-kanak dan membolehkan mereka belajar lebih pantas dan lebih berjaya berbanding dengan kaedah tradisional. Kanak-kanak belajar dengan lebih mudah melalui alat bantu visual yang bersifat kinestetik, dan mereka boleh berinteraksi dengannya, sejadah Muslim pertama yang seumpamanya. Alat baharu yang disediakan My Salah Mat akan membolehkan kanak-kanak dan para mualaf mempelajari cara menunaikan solat Muslim melalui cara yang mudah dan tepat.


My Salah Mat merupakan sejadah yang baru dan inovatif kerana tiada lagi sejadah Muslim lain yang terdapat di pasaran, yang dibangunkan secara khusus untuk mengajar kanak-kanak menunaikan solat Muslim dengan kaedah ini. My Salah Mat di datangkan dengan teknologi sensitif sentuhan, yang tiada pada sejadah yang lain. Ia mengguna pakai sejadah Muslim dan mengubah sepenuhnya menjadi sesuatu yang interaktif.

Berikan mereka My Salah Mat dan perolehi ganjaran kerana mengajarkan solat InsyaAllah.
Terdapat paten yang tertangguh untuk sejadah ini, sila doakan agar ia berjaya.
Spesifikasi:
Saiz Sejadah: 103 x 72cm
Saiz Kotak: 42 x 32 x 10cm
Berat Kotak: 900g
Memerlukan 3 x Bateri AA (Tidak Disediakan)
-------------------------------------------------------
Introducing the all New Omar and Hana version of My Salah Mat! This has been in the development for 3 years, due to many reasons the main one being the pandemic.
We are so happy to announce we have created the worlds first interactive prayer mat with the Original Voices of your favourite characters, Omar and Hana s
peaking
 

English and Malay
.
 Includes a special Booklet with puzzles & activities and information on prayer. Join Omar and Hana on their Salah Journey and start your special Salah Journey today!
My Salah Mat is a prayer mat designed to educate children on how to perform the Muslim prayer in a fun and enjoyable way. The interactive prayer mat is touch sensitive and has pre-recorded keys that can be touched to reveal the sound, such as prayer times, how to do wudu, recite surahs, say duas, and much more. It can teach about the different times of salah, and the various bodily movements and positions, and what to say during them. In order to make the learning process easy, My Salah Mat will guide the user through two rakat of salah using a simple to understand format.
20 Different Languages: 

(

English, French, Arabic, Urdu, Malaysian, Turkish, Indonesian

, Russian, Bangla, Spanish, German, Swedish, Norwegian, Dutch, Bosnian, Italian, Portuguese, Albanian, Somali, Danish

)

36 Touch Sensitive Keys
NEW* Prays all 5 Daily prayers (Fajr, Dhuhr, Asr, Maghrib, Isha) 
Waterproof Material
Fire Resistant Material
FREE 12 Page child-friendly booklet on Salah (24pp)
Free Booklet for Parents on how to start the teaching process
Illustrated Manual – Very detailed
Adjustable Volume – 3 Settings
Foldable
Trademark Registered
Quran Recitation from a Qualified Qari with Ijazah.
HOLOGRAM STICKER – This certifies it's an Original product and the code on the sticker can be used to further identify this on a database with My Salah Mat.
The touch sensitive pads enable the prayer mat to recognise and respond to the specific prayer positions. For example, when someone places both feet on the feet location on the prayer mat, the sensors in My Salah Mat recognise the pressure, and the first action of the Muslim prayer is heard (Allahu Akbar), followed by Surah 
Fatiha
. Then when the knees, hands, and head touch the relevant locations on the mat, the sound related to that part of the prayer is heard. This continues through all of the actions of the Muslim prayer (please refer to the diagram for more information).
Teaching children how to perform salah (the Muslim prayer) can be a struggle, as there are various movements and positions to learn, along with the correct words and recitations to say, and this can be difficult for young children. Therefore, My Salah Mat makes it fun, easy and interactive, encouraging for children to perform their prayers.
The problem this prayer solves is that of updating the methods used to teach salah to children. It is more current and in line with the learning styles of today's smartphone and tablet generation. This means it should encourage children and enable them to learn quicker and with more success than traditional methods. Children learn more easily through visual aids that are kinesthetic, and they can interact with this, the first ever Muslim prayer mat of its kind. The new tools that My Salah Mat provides will enable children and new Muslims to learn how to perform the Muslim prayer in an easy and accurate way.
My Salah Mat is a new and innovative prayer mat because there are no other Muslim prayer mats available on the market that have been developed to specifically teach children to perform the Muslim prayer in this way. My Salah Mat includes touch sensitive technology, which no other prayer mats have. It takes the Muslim Prayer mat and completely transforms it into something that is interactive.
Give them My Salah Mat and gain the reward for teaching salah, inshaAllah.
There is a patent pending for this prayer mat, please make dua it goes through.
Specification:
Prayer Mat Size: 103 x 72cm

Box Size: 42 x 32 x 10cm
Box Weight: 900g
Requires 3 x AA Batteries (Not Provided)
Shipping

SHIPPING

All inventory is ready-stock and shipped from our warehouse in Subang Jaya.

We use tracked shipping on our orders. 

Working days are Monday-Friday (excluding National Holidays and Selangor/KL Holidays).

| | | |
| --- | --- | --- |
| West Malaysia | FREE on orders over RM50. Otherwise RM5 | 1-4 working days |
| East Malaysia | From RM15 (Depending on weight) | 3-6 working days |
| Singapore | From RM70 (Depending on weight) | 3-7 working days |
| Brunei | From RM90 (Depending on weight) | 7+ working days |

Pick Up

You can choose to pick up your order, or arrange your own courier (example LaLa Move, Grab Express) from our warehouse in Subang Jaya.

Please contact us before placing your order for full details. Please allow 1 working day to process and pack the order.
Share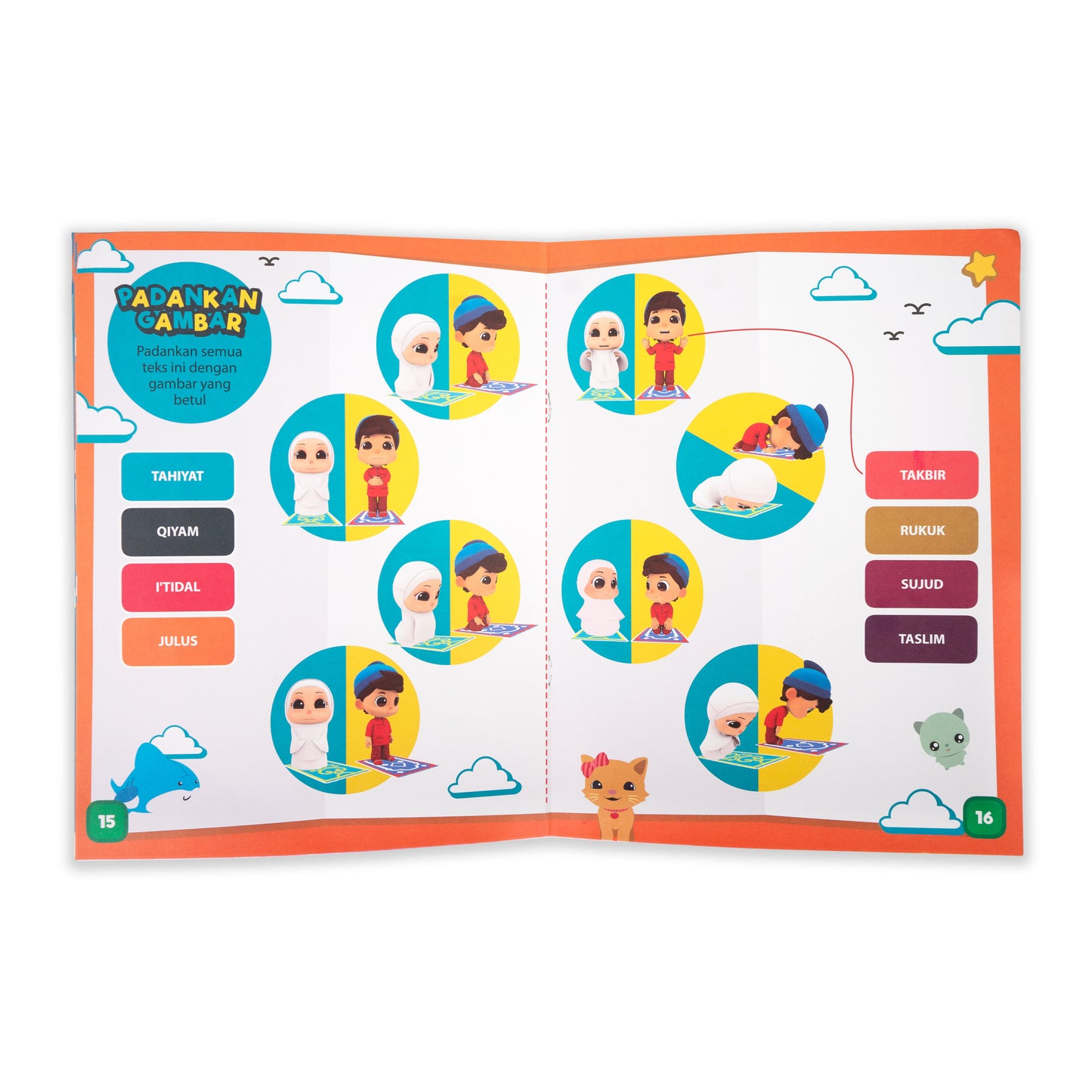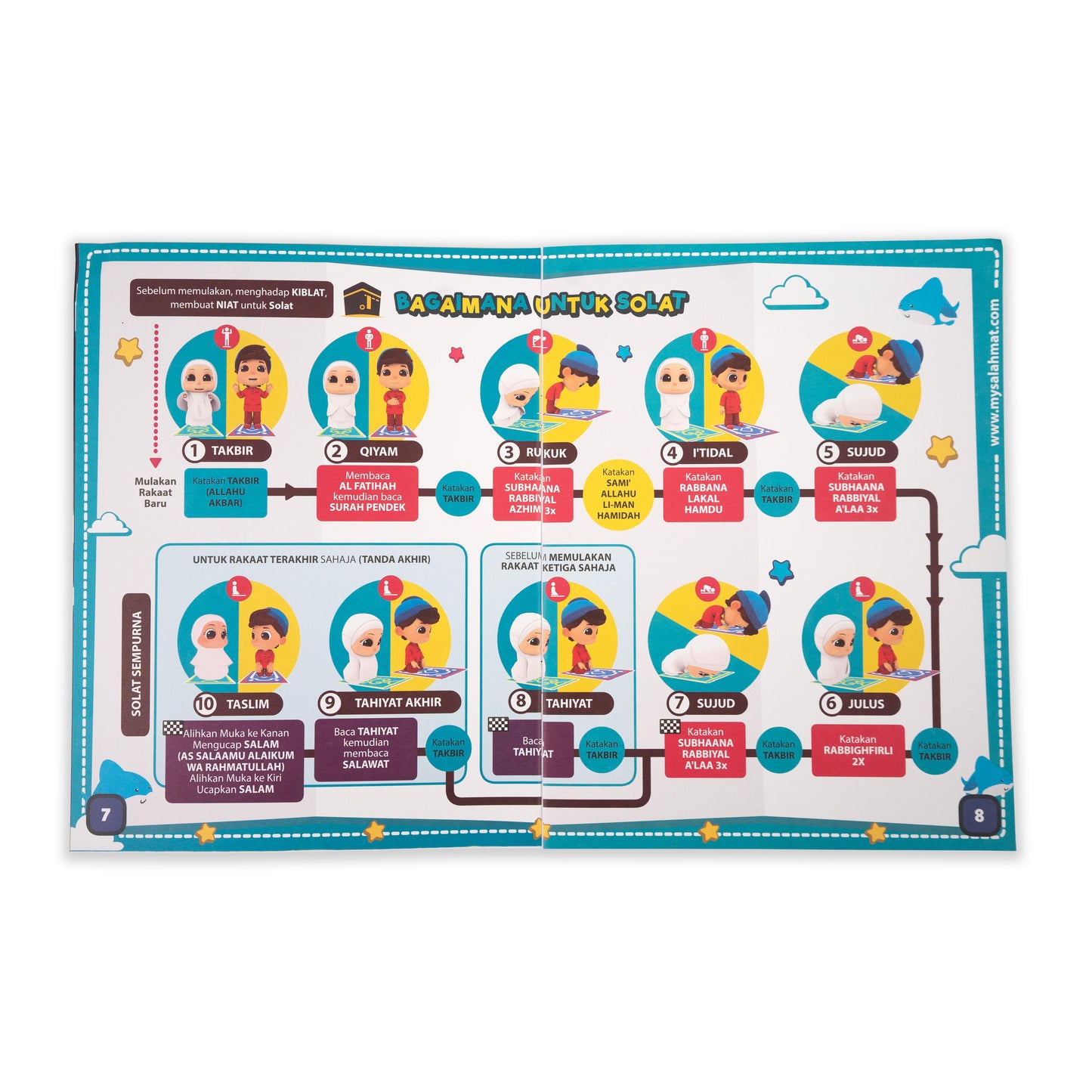 Omar & Hana My Salah Mat - Interactive Kids Prayer Mat | Sejadah Interaktif Kanak-Kanak